lebuh raya W pagar membentuk mesin
w beam guardrail forming machine, harga berbentuk guardrail berbentuk mesin.
produk akhir boleh dipotong seperti pengawal panjang set, dan panjangnya diukur secara automatik oleh pengekod. Apabila produk akhir mencapai panjang set, mesin akan berhenti untuk memotong helaian secara automatik. Tekan tindakan ini, mesin akan berjalan lagi secara berterusan
Mesin pembentuk pagar
kami adalah mesin automatik sepenuhnya, dengan sistem penumbuk automatik.
Penerangan Produk
1. gambar balok lebah lebuh raya: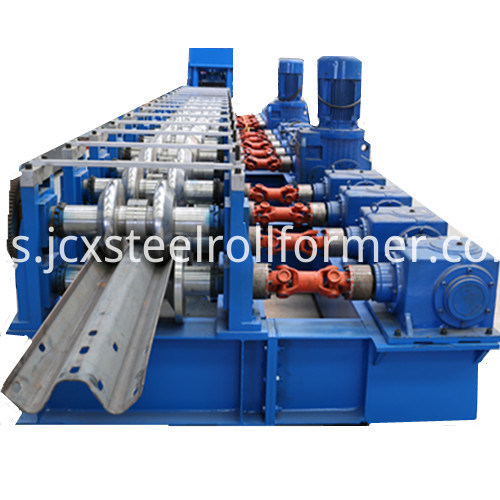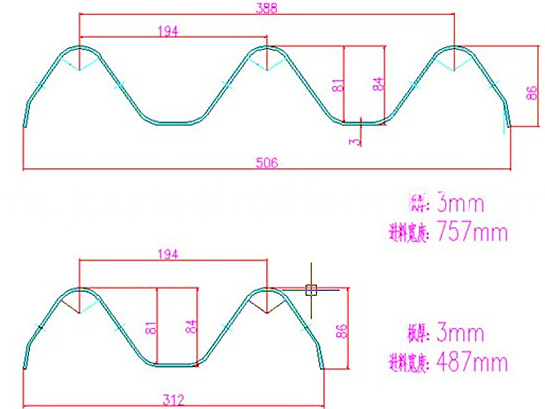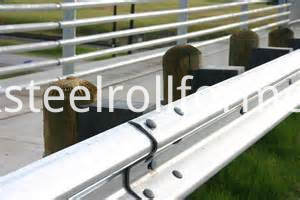 Penerangan Produk
2. Maklumat produk
Technical Datas Roll Forming Machine

1

Material Width

500-1000mm

2

Effective Width

480-680mm

3

Thickness of Coil

1.8-3mm

4

Application

Highway Guardrail

5

Estimated Dimension

11000mmX1500mmX1300mm

6

Total Weight

10 Tons

7

Main Power

30 KW

8

Decoiler

Manual or Hydraulic Decoiler

9

Inner Diameter

508mm

10

Outer Diameter

1200mm

11

Loading Weight

5T

12

Forming Speed

0-15m/min

13

Forming Station

12-15

14

Bracket

Welded with 36 # I-steel

15

Material of Shaft

High Grade forged 45# Steel with 1st Rough Finished and

then 2th Refined Finished

16

Diameter of the Roll

100mm

17

Material of Roller

High Quality

Cr12 Quenched HRC58-62 °

18

Processing Technology

Rough Processing ---Refined Processing--Hard Chromium Plating.

19

Material of Rack

Complete Welded Structure of A3 Steel

Plate 20 mm Thickness

20

Transmission

Chain or Gear Box or universal joint

21

Material of cutting blade

Cr12 with Quenched Treatment 60-62 °

22

Cutting system

Hydraulic Stop or Tracking Cutting

23

Voltage

380V/50HZ/3 Phase or as Customer Require
Bridge Highway Barrier Guardrail Profiles Roll Forming Machine (Complete Machine Picture)
3. Proses pengeluaran
Decoiler → guide Feeding → leveling → punching → roll forming → cutting → receiving table
(barang selesai)


1) Q: Apakah Mesin Waranti?
J: Untuk mesin membentuk roll kami, kami mempunyai waranti 1 tahun. Jika ada masalah kualiti dalam tempoh ini, kami akan mengambil kos penghantaran dan penggantian.
2) Q: Adakah anda mempunyai sokongan selepas jualan?
J: Ya, kami gembira memberi nasihat dan kami juga mempunyai juruteknik yang mahir di seluruh dunia. Kami memerlukan mesin anda berjalan untuk memastikan perniagaan anda berjalan.
3) Q: Bagaimanakah mesin anda dibandingkan dengan syarikat besar lain di pasaran ini?
A: Kami adalah terkini dengan teknologi terkini dan memperbaiki mesin kami dengan sewajarnya
4) Q: Bagaimanakah kilang anda melakukan kawalan kualiti?
J: Kualiti adalah keutamaan. Kami sentiasa melampirkan sangat penting untuk mengawal kualiti dari yang sangat
bermula dari penghujung pengeluaran. Setiap produk akan dipasang sepenuhnya dan diuji dengan teliti sebelum ia dibungkus untuk penghantaran.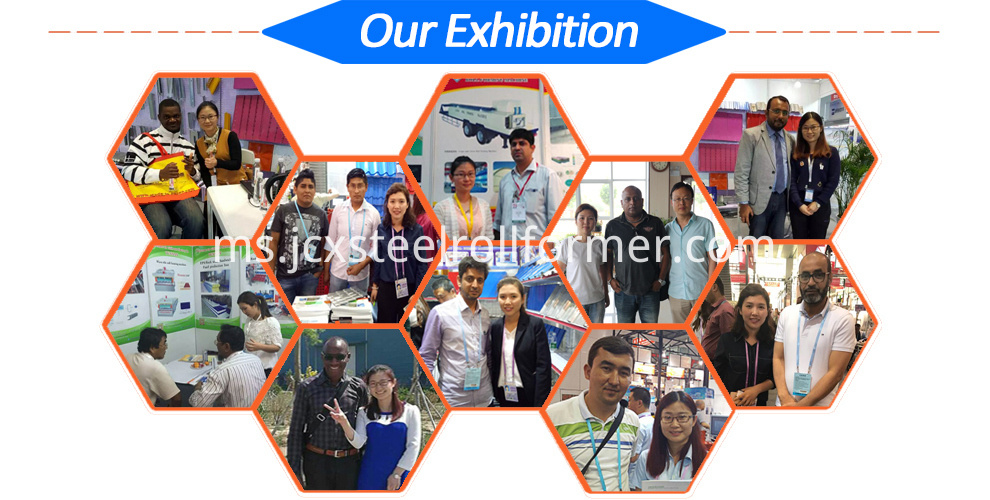 Kategori produk : Crash Barrier Roll Forming Machine > 2 Wave Guradrail Roll Forming Machine