Roll membentuk aluminium membentuk mesin
Mesin membentuk roll downspout aluminium direka untuk pengeluaran downspout bulat. Ia terdiri daripada decoiler manual, pembentukan utama, pemotongan automatik, lenturan siku. ia terbentuk dari cooper, aluminium bersalut warna, pra dicat keluli tergalvani. Jika anda ingin membuat air hujan lengkap ke bawah sistem paip, mesin downpipe dan mesin lenturan siku diperlukan.
Produk akhir boleh dipotong seperti pengawal panjang set, dan panjang diukur secara automatik oleh pengekod. Apabila produk akhir mencapai panjang set, mesin akan berhenti untuk memotong helaian secara automatik. Tekan tindakan ini, mesin akan berjalan lagi secara berterusan. terdiri daripada decoiler, roll membentuk bahagian, pemotongan acuan hidraulik, mesin lentur siku.
Penggunaan paip bawah adalah Mengumpul air hujan bumbung, milik komponen sistem air yang jatuh, memimpin pekat ke tanah di bawah penumpukan paip hujan.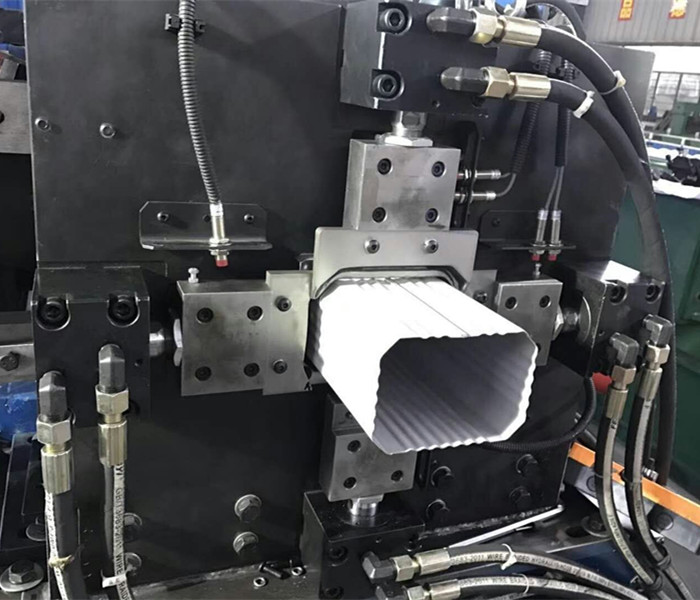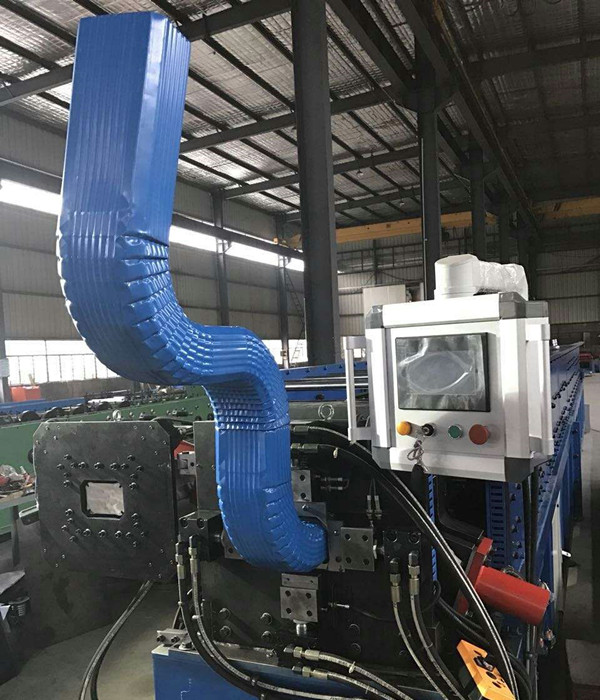 Manual pemutus
No.

Manual decoiler parameters

1

Loading Capacity

3 T

2

Expanding inner diameter

450-550mm




3

Feeding width

Max 500mm
gambar Mesin membentuk roll utama
No.

Main parameter of steel pipe roll forming machine

1

Suitable to process

Color steel plate

2

Width of the plate

As customer need

3

Thickness of the plate

0.5-0.8mm

4

De-coiler

Manual one, can load 3 tons raw material

5

Rollers for forming

19 rows

6

Diameter of the roller

Φ60mm

7

Rolling material

Carbon Steel no. 45

8

Main motor power

5.5kw

9

Productivity

8-10m/min

10

Cutting method

mold cutting

11

Material of the cutting blade

Cr12

12

Hydraulic cutting power

3kw

13

Processing precision

Within 2.00mm

14

Control system




Panasonic PLC control

15

Main structure of the machine

300 H steel

16

Weight

About 7.5T

17

Dimensions

17*1.2*1.4m

18

Voltage

380V 50Hz 3phases(changeable as needs)
Syarat pembayaran:
30% T / T, 70% Baki yang akan dibayar sebelum penghantaran selepas pemeriksaan
Waranti
1. Waranti satu tahun, sokongan teknikal sepanjang hayat.
2. Pemasangan & pelarasan: Kita boleh mengambil video untuk pelanggan
dan pelanggan juga boleh datang ke kilang kami, kami boleh melatih pelanggan
cara memasang dan menyesuaikan mesin.
3. Perkhidmatan luar negara: pembeli perlu mengenakan bayaran visa, tiket pulang,
makanan dan penginapan di luar negara dan gaji USD50 / orang / hari.
Kategori produk : Roll Forming Machine Downpipe > Mesin Downpipe Roll Forming Square